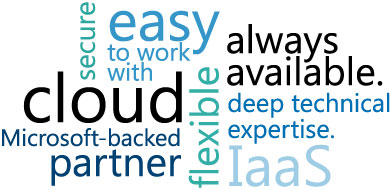 The Cloud. How your employees work, how they engage together, and how they interact with your customers and partners using cloud computing can deliver a powerful competitive edge. Microsoft's cloud services give you the opportunity to bring better business agility and user experiences as well as a leaner, controlled economic model, including the infrastructure and system and device management you expect from Microsoft.
The easy part of choosing to go to the cloud is to embrace Microsoft's Cloud services. There is no other Cloud platform that stacks up against the value and features that the Microsoft Cloud provides. Microsoft's Cloud services include a fully integrated, cloud connected Office experience through Office 365, IaaS through Windows Azure, and system and device management through Windows Intune. This suite of online services allows you to offer the full featured experience of Office, SharePoint and Lync to your users, serve custom applications, and securely manage modern devices.
The critical decision is choosing the right partner with a proven process for successfully taking their clients to the Microsoft cloud and delivering value specific to you, who also has the technical competency and user-centered approach to make it happen.